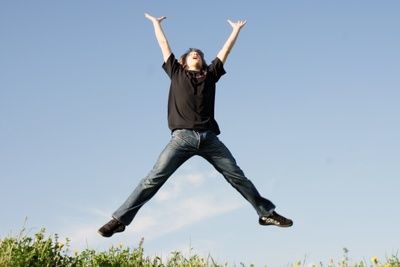 This is what some of our clients have shared about their experience at HSPT

CHRONIC BACK PAIN + IBS
I initially sought treatment for a bad back. I had been going to traditional physical therapy with relief of some of the pain but no real improvement over a 2 year period. IMT isn't the hot packs and electrical stimulation treatment I had been receiving but a more holistic approach to your whole body and what's going on everywhere, not just one part. The results were dramatic. For example, I had a balance problem and had gone to an ENT specialist who couldn't find anything, yet IMT was able to hone in on an inner ear fluid situation and resolved it. I also had a lot of intestinal difficulties and IMT dramatically improved my every-day life. As far as my back, I can just live normally without surgery, etc. IMT sure isn't traditional, but it works!! That's the best testimony anyone can give. It has you engaged in your own health and involves 'homework' so you never lose your focus. I couldn't recommend it higher. Healing Source Physical Therapy combines traditional physical therapy with whole body healing for outstanding results.
LM
MENIERE'S DISEASE
12 Years ago I began to have bi-yearly episodes of extreme dizziness which would knock me to the floor and cause vomiting and diarrhea. This was diagnosed as Meniere's disease. When these attacks occurred I was taken to the hospital for an I.V. with Medizine. I had Medizine pills and Promethizine suppositories to be used at the onset of an episode. However, because of the vomiting and diarrhea, they didn't work and I would go to the E.R. two times a year.
I have had only one attack after starting treatment with Peggy and it was not severe enough to go to the hospital. I was able to go to bed and use the Promethizine. I have not had an attack since -- that was 1 1/2 years ago. The IMT approach is so effective. The alternatives given to me were daily medicine and steroid injections weekly through my eardrums. The IMT treatments work quickly and the homework helps in that area greatly. It is very relaxing as well. I am now able to leave home without ending up in the hospital (as I did before IMT). The treatment has affected every area of my health. I have never felt better. This treatment can change any adverse condition in your body. No one has to live in a state of incapacitation. I look forward to treatments because I know how beneficial they are. It's amazing to find out how one area affects another and even though I might be treated for one thing, there are others that are being improved as well. I know what's going on with my health before symptoms occur, and then correction can be started in good time.
BE
LUNG SURGERY + CHRONIC JOINT PAIN
I sought treatment after lung surgery to get help restoring my strength. IMT also helped me with annoying knee, shoulder and back problems I experience. I felt better with less pain and saw a significant improvement in motion. The homework keeps me on track and focused on maintaining overall good health. I highly recommend Healing Source Physical Therapy and the unique approaches it utilizes.
VM
LYMPHEDEMA + SCAR TISSUE
I had lymphedema in my right arm and the trunk of my body resulting in occasional arm infections and restriction in exercise and other activities, and pooling of lymphatic fluid that caused banding and discomfort from clothing. I also had extensive scar tissue throughout my abdomen. With IMT treatment, the swelling in my arm and trunk have stabilized and I have been able to avoid infection, be more active and to dress more comfortably in less cumbersome garments.
Prior to IMT treatment, I had manual lymphatic drainage – including massage and extensive wrapping of my fingers, hand and arm and wearing custom compression garments and specialized, cumbersome undergarments. It was a time intensive, restrictive approach. The wrapping gave me little use of my arm. The therapy itself was very targeted to the affected limb. The results were rather temporary and didn't impact my general well-being.
Because IMT treats the whole person, not only has my lymphedema improved dramatically, but my general health and well-being are greatly improved. I'm much more aware of what's going on in my mind and body and am able to effectively manage symptoms/issues at times. I am happier, healthier and more active now that every part of me is stronger. Treatment has brought to light many other developing or previously unrecognized "issues". As we're addressed and treated each of these, greater overall improvement occurs, i.e., scar tissue, arthritis, IBS.
I would absolutely recommend Healing Source Physical Therapy to others. You can't imagine how you will benefit from it next, but it's always good and something to look forward to!
BS
AUTO ACCIDENT + HIP REPLACEMENT + NERVE DAMAGE
I was injured when I was hit by a car. I had to have a hip replacement and now also have nerve damage down my right leg from knee to feet, including drop foot. I have tried physical therapy through a local hospital. IMT differs in how it approaches injuries. The results of IMT are perceivable improvement in the injuries and reduction in pain. IMT improved the quality of my life by helping me to regain strength and by reducing pain. I would recommend Healing Source Physical Therapy to others because it really helps. HSPT is a place where you feel welcome and the treatment is very calm and peaceful and successful.
NW
PAIN DUE TO LOST CARTILAGE
I came to HSPT because my right shoulder lost cartilage, causing pain when lifting my arm and turning it. IMT helped very much to relieve the pain. I previously received physical therapy at a local hospital. They used hot pads and physical exercise. IMT used hands on to connect key points to cause my body to heal itself. I like the IMT approach -- the main benefit from IMT was the relief of pain. I would recommend Healing Source Physical Therapy to others because it has helped me with pain relief and less pain provides a better quality of life. I am grateful for that.
PW
DEBILITATING HEAD PAIN
I went to see Peggy Emro at Healing Source Physical Therapy because of an unbearable head pain when I looked down or, worse yet, bent over. I went to my primary physician with this problem first. He recommended an MRI which showed nothing. Then he wanted me to have a CAT scan and if that showed nothing he was going to send me to a neurologist. At this point I decided to try IMT and am very glad I did.
Simply by using her hands to feel what was going on in the body, Peggy determined that there was a narrowing of a blood vessel in my head which was causing pooling of the blood. This caused positional pain. In two or three sessions the problem was gone.
For many years I had been suffering from unclear, slow –thinking. I am a pianist and have not been able to play for a long time because it was too hard to read the music. I never dreamed this could change as I had had two severe head injuries in the past. Peggy discovered some abnormalities in my brain and was able to correct them. For some months now I am playing like I used to and am thrilled and amazed at how much she has helped me.
I love the IMT approach for many reasons. There are absolutely no side effects. It is so natural and lasting and Peggy gives you "homework" to do which helps to speed up your progress.
I am 74 years old, but keep feeling like I am getting younger. I have lots of energy most all of the time. I would imagine IMT therapy would work well for just about anyone.
JKH
NEUROLOGIC SYMPTOMS OF ARNOLD CHIARI MALFORMATION
After visiting countless neurologists, neurosurgeons, internists, physiatrists, acupuncturists and traditional Physical Therapists, my debilitating symptoms, caused by my Arnold Chiari malformation, were getting worse, not better. Furthermore, I was told that there was nothing really that could be done to ameliorate the symptoms; that I would just have to live with them. The pain, numbness, paraesthesias, searing heat sensations, fasciculations, large muscle twitches, intense muscle spasms and severely limited range of motion in my neck were physically and emotionally draining and made every day a challenge. Luckily, after more than a year of getting worse, a physical therapist with some IMT training referred me to Peggy at Healing Source Physical Therapy. Peggy immediately understood my condition and how it could affect my entire body. She gave me a very thorough evaluation and from the very first visit assured me that she could help me. It was an immense relief, just to be understood, and to finally be told I could be helped.
IMT as provided by Peggy, involves a full hour of one- to -one, hands -on treatment. This is in stark contrast to treatment at the other physical therapy offices where I was often left to my own devices and the therapist was treating up to 6 other patients simultaneously. In addition to assessing strength, range of motion, and balance, Peggy utilizes a technique called mapping to determine where the dysfunction is in my body that is contributing to my symptoms. Often just by lightly touching me, Peggy is able to put her finger on the exact spot where I am experiencing pain, without any input from me! I have come to understand that pain in one part of the body can be caused by dysfunction in another area of the body. Peggy has the ability to assess where the dysfunction is so that she can treat the underlying issue so that my pain begins to dissipate and ultimately disappears.
Little by little, my debilitating symptoms have lessened or disappeared entirely. I have better range of motion, strength, and endurance. Most importantly I am very relieved to know that I have found an excellent, knowledgeable, skilled and compassionate therapist who has a wide range of therapeutic modalities that she can utilize effectively to help me heal and improve.
JR
NECK AND LOW BACK PAIN
I was plagued with problems in my neck and lower back for a long time. When the pain became more severe, I went to the doctor who told me I had severe arthritis and suggested I go to a chiropractor to "manage the pain". The chiropractic treatments would help to alleviate the pain for a while but the relief wouldn't last long and I'd have to keep going back. I tried different chiropractors with different approaches but nothing worked for any length of time. This went on for 4 years. Not only did I spend a lot of money on those visits, I wasted 4 years not getting treatment for what caused the pain. I was frustrated and was ready to take my chances with surgery. But first I decided to visit Peggy Emro at Healing Source PT.
Not only did Peg spend the time to get to the causes of my problems, she also educated me about it and gave me exercises to do between treatments. After 9 months, my neck and back pain is practically gone. The numbness and tingles that shoot down my legs are almost gone. I now have increased mobility in my neck and hips and I can go from sitting to standing without pain.
At first, I was a little skeptical of non-traditional methods. I didn't understand how this could work. But honestly, I don't understand traditional medicine either. Peg has an amazing knowledge of human anatomy and I felt reassured by that. Her approach combines that knowledge with a holistic philosophy and it really works. The results are much better than what I expected or even hoped for. No drugs, no surgery.
CB
Pediatric Testimonials
PEDIATRIC ASTHMA
My son has experienced severe asthma attacks triggered by allergies and involving severe wheezing and respiratory distress. We made frequent emergency room visits, needing treatment with prednisone and asthma medications. He was highly susceptible to respiratory infections with fever which always exacerbated his asthma. Since IMT treatment at HSPT, his asthma is resolving, he is off the nebulizer and no longer needs prednisone. Occasional asthmatic events are fewer, milder and resolve more quickly. The frequent ER visits are a thing of the past. His allergies are improved, in spite of a severe allergy season experienced by others. He has an increased aerobic tolerance, enabling him to participate in more physical activities without distress. There has been a dramatic reduction in colds and flu from once per month to a couple of times per year. Additionally, his behaviors have improved: he is less oppositional, has greater control of his temper, no longer has rage full outbursts, and demonstrates improved confidence and self-esteem. There have been significant and dramatic changes in the general health and wellbeing of my child directly attributable to treatment with IMT.
JH
ADD, LEARNING DISABILITIES, POOR CORE STABILITY
I brought my son to HSPT for treatment of his learning disabilities and ADD. Peggy treated scar tissue affecting his brain from a previous surgery for a benign growth in his left ear. With treatment we have seen an improvement in his focus and concentration, as well as significant academic improvement. His reading comprehension and spatial/reasoning ability have also improved. With the total body approach of IMT, there have been improvements in postural alignment, trunk strength and spinal mobility resulting in increased running speed and batting skills. This has given him the confidence to participate more in athletics and become generally more fit. The behavioral improvements achieved further enhance his ability to participate and interact socially with friends and family. I like the IMT approach because it works on the cause of the problem to fix it and not just medicate the symptoms.
JH
AUTISTIC SPECTRUM DISORDER, ADHD
IMT has had a huge positive impact on my son's quality of life. He is on the spectrum and has severe ADHD/ADD. When his Physical Therapist first brought up IMT, I had never heard of it. After a few sessions, I could see a change in his behavior. After a couple of months, the results were undeniable. He was more aware of his body position in space, more focused, and calmer overall. His range of motion and his strength increased. I'm so thankful for this gentle, pain-free therapy.
PS
CEREBRAL PALSY
IMT has been very beneficial to my daughter who is 12 years old. She was born extremely premature (at 23 weeks) and ….learned to walk at 3 years after a lot of therapy. She has cerebral palsy, with left hemiplegia….(and) spasticity. She also has difficulty with language, behavior and learning. We started IMT about 5 years ago and it has opened up in a lot of ways. She is now more expressive and she was able to attend a special class in her district (starting at 3 years ago) cooperative. IMT has helped turn her around when I got reports she was acting out in school. The therapist would give me NFP to do to help change her attitude. She is less aggressive and more focused. It has opened her up to handling social experiences (school dance, friends and family get-togethers). I became very aware of how important IMT was for her with the following story: Two weeks ago I was sick with the flu and could not have my therapist come over for a week. At that point my daughter went downhill – she could not stand or walk by herself anymore. She also stopped focusing and started rambling on with her words, was having a hard time eating and became aggressive and destructive and refused to go to school. After the 2nd visit of IMT,… she was back to where she was before. IMT is very efficient and I highly recommend it.
MB
DEVELOPMENTAL DELAY
We are very grateful for IMT therapy that provided the mental and physical development that our twin sons so desperately needed to help them mature and grow into the happy, interactive 2 year olds they are today. These little guys were 11 weeks premature. One son had noticeable under-developed muscular issues, while the other was displaying signs of aggression through constant head banging and hair pulling of his brother. With IMT, there was a noticeable improvement over time in both our sons. We are extremely pleased in seeing such positive development results in our boys. They are proof that alternative healing methods, when done properly, do work. We are firm believers in the practices and methods that IMT therapy is based on, and we would not hesitate to recommend Erna and the IMT holistic therapy treatment to friends and family.

R & K